<! -- VIDEO START -->
<! VIDEO END --> <! -- LEFT COLUMN START -->

"GymValet is simple to implement and plays a vital role in keeping our gym clean. Both members and employees benefit from the ease of the system. Dr. Bruce has been more than available to answer all of my questions, especially in regards to this product and the COVID-19 pandemic."
Aaron August
Assistant Director of Fitness, Stanford University
Redwood City, CA
June 19, 2020
Welcome to GymValet
GymValet® is the perfect holder for sanitizing spray bottles and towels. It easily attaches directly to all strength training and cardio equipment. With the GymValet, equipment sanitizing supplies are precisely where they need to be—right at every exercisers' fingertips. The GymValet has been helping fitness centers around the world keep a clean environment since 2006.
Need Cleaning Supplies?
If you are looking for one-stop shopping for the industry's best fitness equipment cleaning and sanitizing supplies, please check out the Gymvalet Equipment Cleaning System.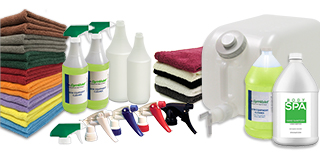 <! LEFT COLUMN END --> <! -- RIGHT COLUMN START -->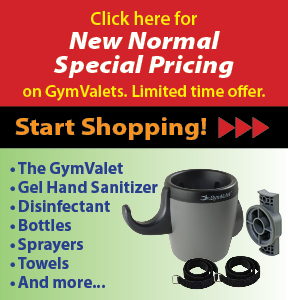 2020 Trade Shows
Visit Dr. Bruce's Blog to see Highlights from recent trade shows!
<! RIGHT COLMN END --> <! CLEAR FLOATED COLUMNS --> <! -- BEGIN BLOG POSTS-->
---
Recent Posts from Dr. Bruce's Blog




<! END OF MAIN DIV -->